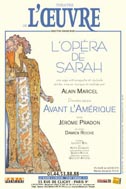 Theatre

Théâtre de l'Oeuvre

Location

Paris

Genre

Musical, one-man show

Date

20 January - March 2009

Director

Alain Marcel

Music by

Alain Marcel

Lighting

Laurent Béal

Pianist

Damien Roche

Synopsis

A composer wishes to write an opera about the famous Sarah Bernhardt. The story takes shape through the narrator, as we discover the fascinating woman.

Molière award winner of Best Musical 2009.