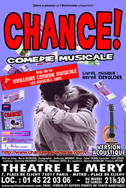 Theatre

Theatre Le Méry (theatre Le Lucernaire from 24 March 2004 to 30 April 2005.)

Location

Paris, France

Genre

Musical Comedy

Date

4 May 2005 - 28 May 2005

Created by

Hervé Devolder

Director

Hervé Devolder

Scenic design

Lalaô Chang

Musical Direction

Hervé Devolder

Costumes

Erik Schaix

Choreography

Catherine Arondel

Lighting

Christian Mazubert

Producer

Zèbre à plumes

Performers

Catherine Arondel, Magali Bonfils, Diane Bonnaure, Stéphanie Caillol, Sandra Lalanne, Agnès Pat', Nathalie Pâque, Julie Victor, Julie Wingens, Laurent Bàn, David Jean, Hervé Lewandowski, Nollane, Jérôme Pradon, Fabian Richard, Edouard Thiébaut, Franck Vincent

Synopsis

After two series of shows in Dejazet and Trianon and a long tour in France, CHANCE returns to Paris in an 'acoustic version'. No microphone, no sound system, just the singers and musicians 'live', imagination and laughter.
In the delirious atmosphere of this one of a kind law firm, a rocking courier, a lyrical baritone employer, two secretaries more into 'Latino' than 'typing', a 'flamenco' cleaning lady, a 'cabaret' assistant and a frightened trainee sing, dance and play the lotto instead of working! Chance smiles on them.