Jerome Pradon leads the charge in NAPOLEON.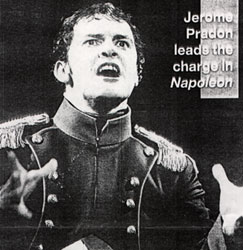 The tale of Napoleon's life ran pretty much downhill to Waterloo once he'd come to face to face with a Moscow winter.
But this is more than a century later - and the dregs of this Toronto winter can't slow the young Frenchman who's stepped eagerly into Napoleon's boots with parallel hopes of conquering the world, 20th century style.
Of course, where Bonaparte had legions of soldiers, calvary and artillery to back him in his bid for power, Jerome Pradon is tackling the world backed only by a legion of hoofers, wardrobe assistants, musicians and grips.
The conquest, of course, begins Wednesday on the stage of the Elgin Theatre, when the curtain rises on the world premiere of Napoleon.
Unless you've been in Siberia for the last year, you'll know that Napoleon is the handiwork of Andrew Sabiston and Timothy Williams, two aspiring young Canadian talents. Under the aegis of producers Marlene Smith and Ernie Rubenstein, they have attempted to transform the lives of the little Corsican who almost ruled the world and Josephine de Beauharnais, his one-time wife, into a epic night of romance on the musical theatre stage.
With Scotland's Aline Mowat cast as his Josephine, Pradon plays the title role in the multi-million dollar production. Not bad for a young actor from Boulogne-Billancourt.
"It's very heavy emotionally -it's just like froouu," Pradon groans cheerfully of his casting. "Having to bear with someone who is so intense and full of energy. I feel it is very draining emotionally. The difficulty is that big personality he had, that energy."
Pradon pauses for breath, punctuating the silence with an infectious grin.
"What I like is his story is really amazing. He was a poor guy from a poor family who became an emperor. There's something mystical about that."
There is, in fact, something mystical about Pradon even being here at all.
It wasn't that long ago that he was happily essaying the role of Chris (the troubled young GI) in London's West End production of Miss Saigon.
"I was surprised when my agent in England told me I was to audition for a show called Napoleon," he recalls. "That was sounding pretty naff to me."
He shrugs.
"It's a historical figure but I didn't know a lot about the human person," he explains.
Nonetheless, he agreed to the audition.
"Then I listened to the music and I was absolutely stunned," he reports. "I said: I want to do that. That's my next job."
Which is not to say he was a shoo-in for the part. Napoleon, after all, left behind some mightly shoes to fill - and Pradon is 5'11".
"That's very tall, yeah," he concedes. "That's why I thought they wouldn't give me the part."
But it turns out that Napoleon was more than merely short - and Pradon obviously evoked some of his other, less physical attributes.
"I started to read about him more and I discovered a very fascinating figure and, for an actor, it's great to play him," Pradon says. "There's so many things to do with the character."
And so many worlds to conquer, not the least of which is Toronto in the midst of our grim, grey winter.
"I like it," Pradon says with an expressive Gallic shrug, adding that, in fact, he prefers Toronto snow to London fog.
"I'm miles further away from home, but I don't feel so outcast."
Language really isn't a problem. Aside from a charming -even romantic- accent, Pradon's English is better than our Prime Minister's.
"Basically, I learned it listening to pop singers and watching American movies", he recalls.
And being is Canada is actually helping him improve it. "When you read something on a pasta box, you can think: 'What is the meaning of that word?' - and its translation is just over there."
But Canada (or at least, true blue Ontario) still hasn't proved to be the land of milk and honey, he reports, a trifle sadly. There's a problem still with his life in the Beach, it seems.
"I was so shocked not to find wine in a food shop," he says, still bemused. "For a Frenchman, that's strange."
Of course, he'll find things different in Quebec, once the show is opened and he gets a chance to look around.
"For a Frenchman, it's totally crazy to be in Canada and not to be in Quebec," he says. "I'd like to see Montreal."
"I would love to travel all over Canada. At the end of the run, I will manage to have eight or 15 days to tour," he vows.
Now, let's get this straight -to get Waterloo, you head west on Highway 401 and take a wrong turn at Moscow...