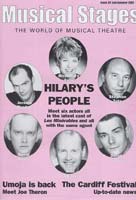 WHEN Les Misérables opened its umpteenth cast on 29 July, one particular member of the audience had more than the usual reasons to feel proud. Hilary Gagan, well-established, well-known and well-liked agent, has six of her clients in the current cast. We'll introduce them all to you in a minute, but first, you may like to know how Hilary became an agent in the first place, having started her working life as a dresser at the Aldwych Theatre for the Royal Shakespeare Company, throwing clothes onto the likes of Christopher Biggins, Don Henderson and David Dundas - writer of 'Blue Jeans', the commercial that became a hit pop song.
Moving to the Bristol Old Vic, she dressed a stellar collection including Paul Eddington, Ian Richardson, Hayley Mills, Timothy West, Tom Baker, Tim Piggott Smith, Kenneth Cranham, Kate Nelligan and Diana Quick. Then, when Cameron Mackintosh produced The Card, Hilary dressed Jim Dale in his title role of Denry Machin in a cast that included Eleanor Bron and Diana Sheridan. Jim Dale got so much fan mail - he presented Sunday Night at the London Palladium -that he asked Hilary to become his secretary and this led to her taking on other clients for similar activities - Frankie Howard, Eric Sykes and Johnny Speight (writer of 'Til Death Us Do Part).
Through working with Eric Sykes, Hilary met producer Paul Elliott who offered her a job in theatre production. Eight years later, she decided she needed a change, worked briefly for a film company and then was approached by Cameron Mackintosh's office to become a company manager and fledged her wings on Cats. After four years, Hilary felt she had done so many deals for dancers who did not have agents and spending hours in the theatre, that perhaps an agent's life was for her. When actor David McCallum asked her to be his agent, the die was cast.
During the day, Hilary took a job at another agency and continued with the theatre at night, then took the plunge, left both jobs and set up an agency partnership becoming a sole agency in 1996. Amongst the clients she had at that stage were Ruthie Henshall, Ian Lavender, Jérôme Pradon and Rosemary Ashe, all but one of whom are still with her. Ruthie has, she says, 'successfully moved on to pastures new', but Ian, Jérôme and Rosemary are still under her wing. There cannot be many agents who can boast six members of cast in one show, so let's meet them.
Ladies first! Well, there is only one and it is the inimitable Rosemary Ashe. Rosemary is back to play Madame Thénardier again having played her before a few years ago. Especially well-known for originating the role of Carlotta in Phantom of the Opera, most recently Rosemary was nominated for an Olivier award for her role as Felicia Gabriel in The Witches of Eastwick. Many of you have seen Rosemary's one-woman show, The Killer Soprano so know the extraordinary range of her voice. This has meant she has the ability to move between opera and musicals with equal ease and her CV goes from The Magic Flute and La Boheme via H M S Pinafore to The Boyfriend, Candide, Bitter Sweet and Forbidden Broadway.
Jérôme Pradon (Javert) is a great favourite with Musical Stages readers and past issues in which he has appeared are often ordered. Trained in Paris, he hops between France and the UK amassing his credits on both side of the Chunnel. How many of you know that Jerome played Marius in the French production of Les Misérables? He took over the role of The Man in Whistle Down the Wind and we first met him when he originated the role of Guillaume in Martin Guerre. He played the title role in Killing Rasputin and took part in Black Goes With Everything (which we still hope to see in a larger production).
Stephen Tate is joining forces with Rosemary for the second time. He was playing Clyde Gabriel in The Witches of Eastwick and becomes her husband once again as Monsieur Thénardier. Stephen is a regular in the West End with shows including Return to the Forbidden Planet, A Chorus Line, Blondel and Cats in his repertoire. He played Judas in Jesus Christ, Superstar and has been seen regularly on television in many popular shows including Casualty, Silent Witness, The Bill and Kavanagh QC.
We know David Arneil (Babet) from Always, Napoleon and the Royal National Theatre productions of Candide and Oh What A Lovely War. David was also in last season's production of Me and My Girl which Tim Flavin directed in Birmingham. This is not his first time in Les Misérables - last time, he played Jolie. He has appeared in shows all over the UK, playing amongst many others Lee Harvey Oswald in Assassins in Manchester, Bert Healy in Annie in Liverpool and Young Scrooge in A Christmas Carol in Perth.
Alan Vicary (The Bishop) will be familiar to many of you for a career balanced between straight theatre and musical theatre. From Orsino in Twelfth Night to Gerald Birling in An Inspector Calls, he moves across to musical theatre and he has also played roles in Les Misérables before. He has just finished playing Ralph in Kiss Me, Kate at The Victoria Palace and before that, was playing Monsieur André in the National Tour of Phantom of the Opera.
David Ashley (Grantaire) is perhaps a less familiar name although those of you who saw Cats in the recent years will have spotted him as Munkustrap and if you caught Big Night Out at Watford, you couldn't miss him camping it up as one of the theatre ghosts. David spent some time in Starlight Express as Bobo and toured as Pete in Crazy for You. Southampton saw him as The Tin Man in The Wizard of Oz at The Nuffield Theatre and at Leicester, he played Zeke in Seven Brides for Seven Brothers. He enjoys big galas having appeared at The London Palladium and Theatre Royal, Drury Lane in a variety of top celebratory concerts.
Those Les Misérables aficionados will know that the actors who play The Bishop and Grantaire are generally first and second understudy to Javert, so Hilary has all three Javerts in her current control! We wish them all well for their year at The Palace Theatre.