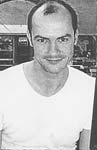 CULT
Crime of Passion is a one-man show performed by Jérôme Pradon.
This show has a cult following in France, inspired by the true-life story of serial killer Eugène Weidman who was accused of murdering five women. It is a study of a man's mind using the medium of music and words. A moving, if somewhat confusing piece, it culminates in what can only be described as an explosion of physical emotions portrayed by a fast moving burst of athletic dance leaving everyone exhausted and emotionally drained.
This "passionate and twisted" one-man show finishes with a fiery flurry of furiously fast footwork, which both contrasts and complements the vocal virtuosity of the vivacious performance.