The Napoleonic Empire was not built in a day. And neither was Napoleon, a spanking new, Canadian-written and produced mega-musical based on the life and conquests of the 19th century French general turned emperor.
The show's world premiere Wednesday at the Elgin Theatre is the culmination of more than 12 years work by its precocious young creators, writer Andrew Sabiston, 29, and composer Timothy Williams, 28. At that rate, its gestation has lasted slightly longer than Bonaparte's entire term as Emperor, which ran from his coronation in 1804 to his defeat in 1815 at Waterloo.
And, when you come to think about it, the chances of an unknown but brash Corsican soldier becoming the ruler of most of Europe are about as likely as two unknown but brash collaborators making their stage debut with a $4.5-million musical that marshals a 32-member cast and a 26-piece orchestra. But there you have it.
Napoleon producer Marlene Smith is no stranger to navigating uncharted theatrical waters. She helped alter the map of commercial theatre in Toronto by franchising the hit Andrew Lloyd Webber musical Cats in the early '80s, at a time when no one knew for certain if the city could support its own long-running mega-musical. Since then, we have had a slew of like ventures, including Les Miserables, The Phantom of The Opera, Joseph and the Amazing Technicolor Dreamcoat, Miss Saigon and Crazy for You.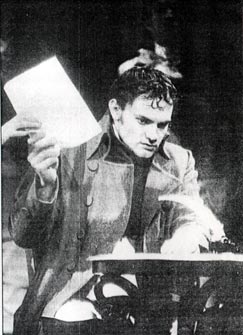 But those shows had track records. The closest thing to Napoleon that Toronto has seen in terms of large-scale, from-the-ground-up creation was Garth Drabinsky's Kiss of the Spider Woman, which also started out here, but was created by a bankable Broadway writing team. Napoleon apparently ranks just below Jesus as the most recognizable figure in Western history. But even that didn't seem much to go on, when writer Andrew Sabiston and composer Timothy Williams first apporached Smith in September of 1988 with a project that they had begun six years earlier. Smith, as the story goes, had just seen War And Peace at the Shaw Festival and wasn't thrilled by the idea of another 19th-century, battle-scarred epic. But Sabiston and Williams, who are nothing if not dogged, returned six weeks later, tape in hand, and won her over.
"As well as being cute and adorable, the two boys were very dedicated and persistent," Smith recalls. "They weren't going to let me forget it."
Napoleon is a sweeping sung-through musical that charts the ambitious Bonaparte's rise and fall in classically tragic terms. Against this historical backdrop is told the romantic story of Napoleon's passionate but ill-fated relationship with Josephine.
The production, directed by Montreal-board John Wood, a veteran of the Stratford Festival and National Arts Centre, stars Paris-born Jerome Pradon, whose credits include Miss Saigon in London, and West End regular Aline Mowat in the lead roles. The supporting cast includes such sturdy Canadian musical talents as Karen Edissi, John Devorski, Eric Donkin and Avery Saltzman.
Other key contributors include orchestrator David Cullen, who has worked with Andrew Lloyd Webber on Cats and Phantom of the Opera, and veteran designers Patrick Clark (set and costumes) and John Munro (lighting). It all makes for a big show.
"People always talk about nerve and ask how on earth we could possibly do this," Williams says. "But for us it's always been very important that it be done properly."
Adds Sabiston: "The scale was dictated by the story, as well. Being about Napoleon, it meant that it had to have a cast of at least 30."
Big shows require big recoupments. Although Smith is reluctant to talk dollars and cents when it comes to advance sales and profit injections, partner Rubenstein is quoted in publicity brochure as saying the show can break even with 60 per cent capacity during its scheduled 24-week run at the Elgin.
A best-case scenario, according to Smith, is to break even here in Toronto and then to start making money when the show transfers to London's West End after Labor Day. Details of the trans-Atlantic move have yet to be announced.
"We know it's going to be slow at first," she says, "Nobody expects miracles the first month. But if it catches on..."
If. Such a little word, but with less than a week to go before the show's opening it best defines a situation that is pregnant with limitless potential and fraught with the possibility of shattered expectations.
Right now, everyone is being careful not to get too far ahead of themselves. But human nature being the way it is, Sabiston and Williams say that they have some material in a drawer that might eventually become part of a second collaboration.
It has even been suggested to Smith that, if the show's a success, she might be sitting on a theatrical gold mine. But she's too familiar with the vagaries of the business to get carried away.
"We'll get London done and then we'll see what happens."
And besides, adds Smith with a grin, at Sabiston and Williams' current rate of output, "I'll be dead and buried by the time they write their next show."
---
Napoleon's route to the Elgin has been a plodding and determined as its namesake's excursion through the Alps. Here is a chronology of the highlights of that theatrical journey
It all started with two teenagers' dreams...
Winter 1981-82: Director Paul Almond employs Sabiston as an actor and Williams as a composer for the film Ups And Downs.
Feb. 1982: Sabiston and Williams, spurred on by having seen Evita and other big shows, decide to write a musical, based on the life of Napoleon, Julius Caesar or Elizabeth I: "The Napoleon story quickly eclipsed the other two because it had two things the other two didn't have. It had a tremendously well-documented love story, with real tragic overtones to it. And it had a central figure who was a tragic hero... He's somebody who starts out essentially good, but his fatal flaw -ambition- winds up taking control and he takes a step too far in crowning himslef Emperor."
June-Aug. 1982: Twenty-one songs are written, including one, "Calm Before the Storm", which survived through to the current version, although in radically different form.
May-July 1987: Sabiston and Williams begin creating in earnest, resulting in 45 minutes worth of material.
July 1987: A piano track is recorded in London on a 16-track tape.
Aug-Dec. 1987: Sabiston returns to Canada and starts filling out the tape, using friends and acquaintances as singers - including Avery Saltzman, who is in the current version, as well as the National Arts Centre Chorus.
Jan. 1988: A promotional package, containing a tape, lyrics and a summary of the story is put together.
Jan.-Oct 1988: A select group of potential investors from Toronto to England is approached, including Marlene Smith.
Oct. 1988: Smith is approached again, agrees to meet, hears the tape and is won over.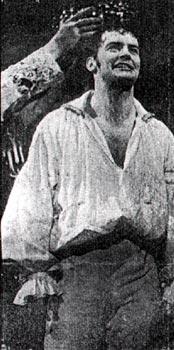 Nov. 1988: Williams returns to Toronto to finish writing show.
May 1989: The first draft is completed.
Oct 1991: A two-week workshop in a studio at the Elgin Theatre, featuring 17 singers (including Brent Carver) and 4 musicians, culminates with two public performances Oct. 17 and 18 in front of audiences of 150 each night.
Nov. 1992-Dec 1993: Sabiston and Williams work on the sixth draft.
Jan. 1993: Auditions begin in Toronto and London, England.
Oct. 1993: Paris-born Jerome Pradon and England's Aline Mowat, are contracted to play Napoleon and Josephine: "When we saw Jerome and Aline together, we thought there really is no other pair that has that chemistry. All the other leads we found in Toronto, but those two were right for us."
Nov. 1993: A rental agreement is signed with the Elgin.
Nov.12, 1993: A press conference is held to announce the production.
Jan. 17, 1994: Rehearsals begin.
March 9, 1994: On the 198th anniversary of Napoleon and Josephine's marriage, the musical has its first preview before a gala audience.
March 14, 1994: Work begins on a cast recording of the musical's highlights, scheduled to be released in mid-April by EMI.
March 23, 1994: At 7.30pm, the curtain is scheduled to rise on the official, world premiere performance of Napoleon. After which, as Shakespeare observed, what's past is prologue.